Discussion Starter
·
#1
·
Well I acquired my 1992 Jeep Cherokee Sport 2wd from my grandma. She gave it to me when my grandpa died this year. It was his work truck. He was a painter so the interior and exterior has paint splatters and was very beat up. The drivers seat was broken, no back of the bench seat, missing headliner, missing center armrest, no a/c, would start, broken taillight, no radio, and a bunch of missing trim pieces. The junkyard became my best friend. The first thing I did was to get it running. All I did was replace the ignition coil and did a tune up. Started right up. After that I fixed the A/C and tried my best to catch up on the maintenance. Than I went to the junkyard. Picked up all the pieces that were missing, broken or worn. I wound up spend almost $130.00 in parts. It was a great day. Once everything was back to factory and working the fun began. First thing I did was I lifted my XJ. I bought the 4.5" Rough Country lift kit. I also acquired and set of BFG 35" A/T tires and bought some Crager Soft 8's. After installing of course I had to trim the fenders. After I finished this is what she looked like.
I wasn't that happy with the way it looked. The back sagged a little. Next upgrade I did was I added a 5" motorized screen dvd/cd player. Next thing I did was I redid the dash and control with toggle switches. Looks great. I unfortunately don't have any pictures. Next thing I did was replaced the headliner with black vinyl. I wanted black vinyl so its easy to clean mud off.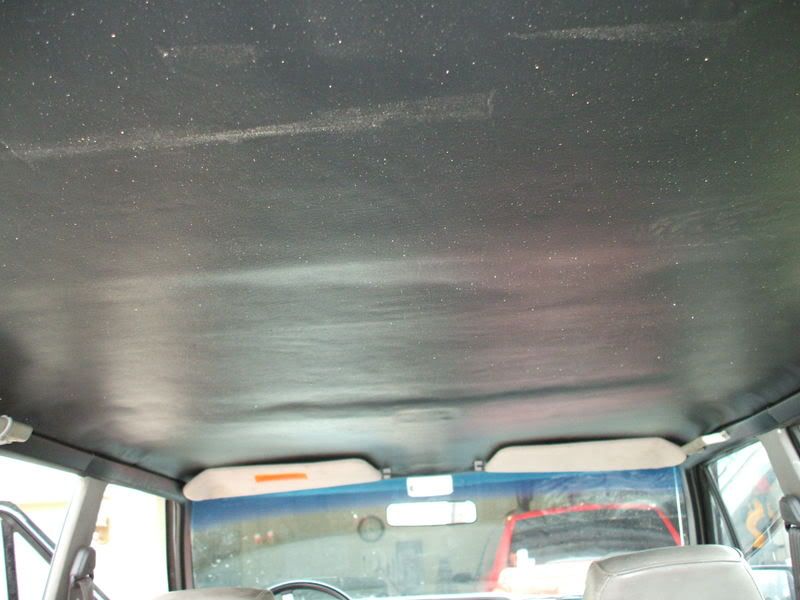 After driving it I quickly realized I needed a track bar and needed to fix my suspension. So I bought a used Rusty's Offroad track bar and mount and replaced the upper and lower ball joints and all the tie rod ends. It felt some much better driving. Now there was another problem. Unfortunately my XJ was a 2WD. I didn't want to sell it and get a 4WD cause it was grandpa's so I had to convert. It toke me 2 months to locate all the parts. While I was looked for parts for the 4WD parts I added some Hella500 driving lights and lifted it 2 more inch's to level the back out. I bought 1.75" RE spacers for the front and 2" RC shackles in the back. It leveled out perfect. I also needed to extend my brake line with steel braided line and I also needed a drop pitman arm. After tracking down and buying all my 4WD parts I started with the conventions. First I started with replacing the front axle. I cleaned it up, added new bushing, and gave it a fresh coat of paint. Then I mounted it. After installing it this is what it looks like.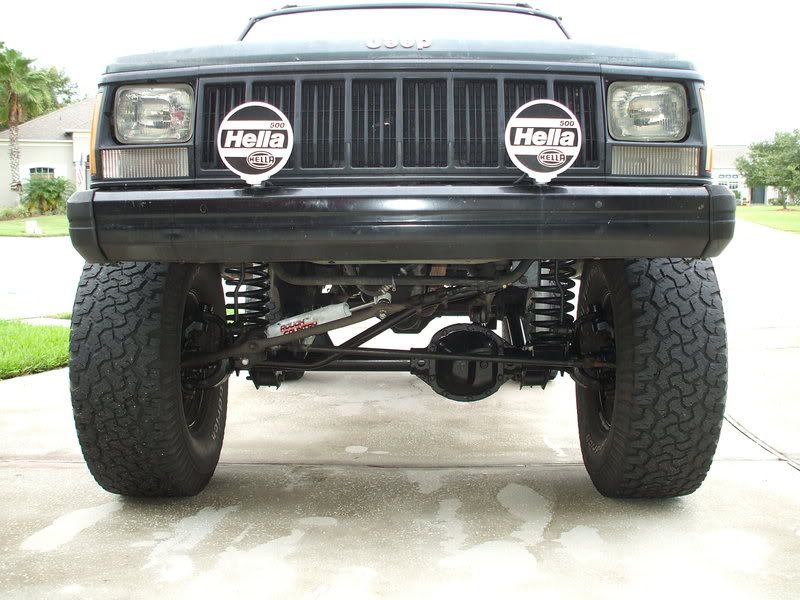 The next week I started working on the transmission and transfer case. After matting the transfer case and figuring out how to wiring the darn thing she is ready to go in.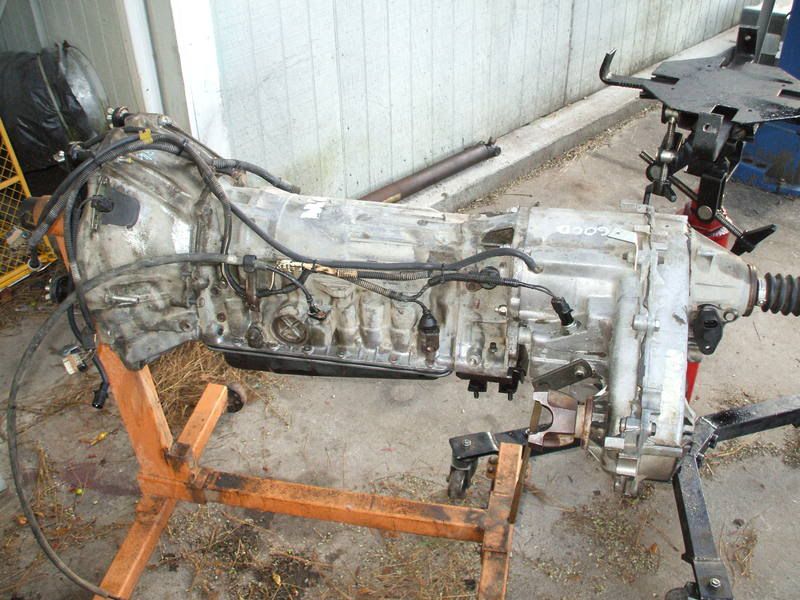 Removing the old transmission was easy. Installing the old transmission was kind of a pain. I was by myself so it wasn't easy.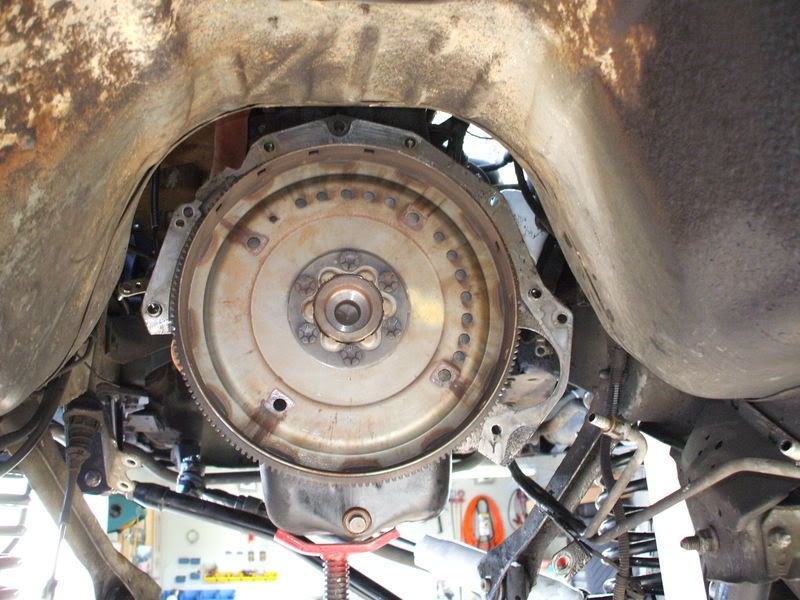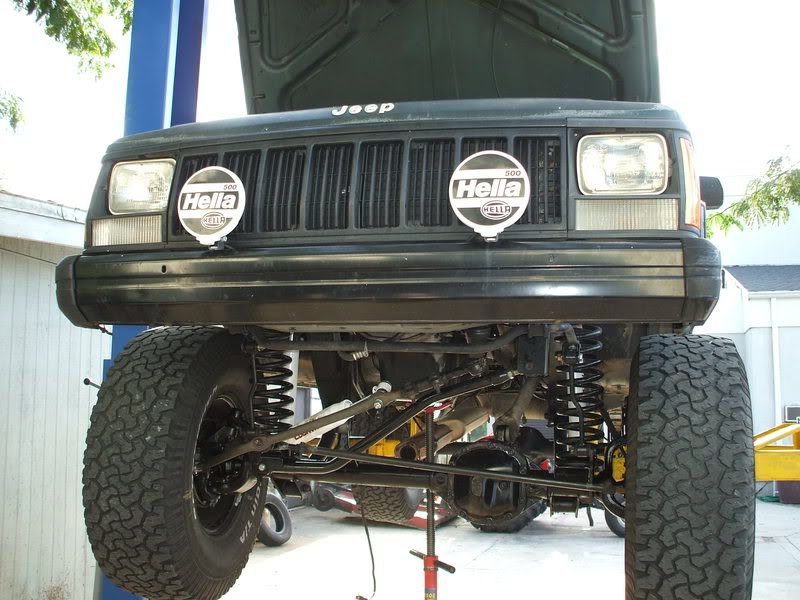 After everything installed minus drive shafts. I need to rebuild the drive shaft with HD U-joints. Next I installed a PORC HD SYE kit. After installing it I finally toke it for a drive. EUREKA! It works great. Here is the final look.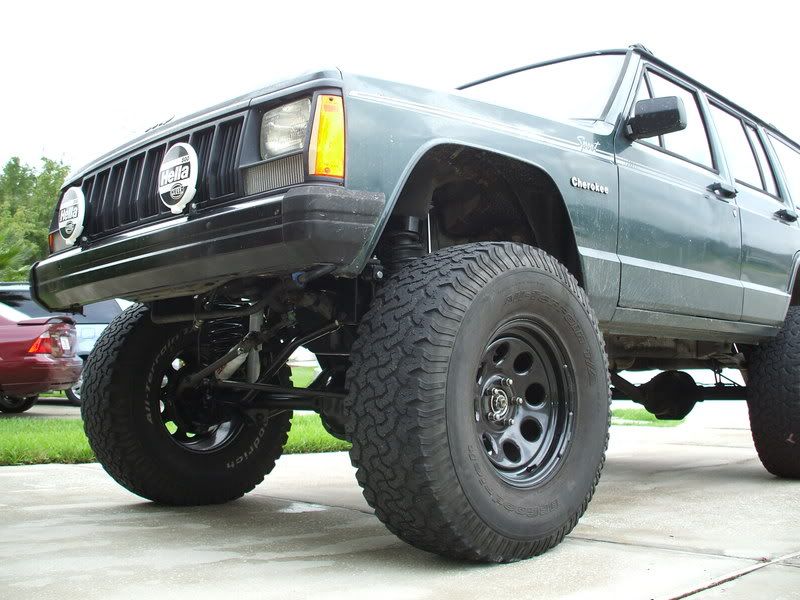 There is plenty more to come. So keep checking back for updates.