Guy "upstairs" needs it bad....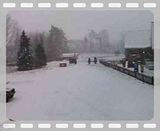 I LOVE IT! :thumbsup: :rock:
and for you guys out west:
SNOW: –noun
1. Meteorology. a precipitation in the form of ice crystals, mainly of intricately branched, hexagonal form and often agglomerated into snowflakes, formed directly from the freezing of the water vapor in the air. Compare ice crystals, snow grains, snow pellets.
2. these flakes as forming a layer on the ground or other surface.
3. the fall of these flakes or a storm during which these flakes fall.
4. something resembling a layer of these flakes in whiteness, softness, or the like: the snow of fresh linen.