Hi my friends! I do hope all is well & 23 is being good to you all!
I am relatively new, not only to Grand Cherokees but also to the Car World in general!
Don't know why it never happened when I loved driving so much but life takes over your focus, and it ended up not being a number one event in my life until recently! & now I don't know how I ever lived without one! So now I have 2!
But both are in deep need of love, one on SORN
& both no MOT!
So. Through different online avenues. Tons of video tutorials, & online threads & forums (99.9% reading tnem, rather than joining!). I have slowly brought my WJ back to life, after being sold mine from someone, who wasn't 100% honest with me and I walked right into a brick wall of electrical problems & some mechanical.
So, down to what brings us all here! I love my WJ man! Here's her specs:
Jeep Grand Cherokee WJ MK2 4.7 V8 Limited 2000 In Silver, Dark Grey Interior!
47-48,000 (was a massive selling point!) on the clock! Interior close to prisitne, smelled like a new car although I've been using AUTO GLYM for my leather cleaner & Leather care and the new car smell has been altered somewhat so not so sure if this isn't the right Brand to treat to my GC with.
Engine bay looks really nice but could do with a Dremel over it and make the metal work shine even more! Body work is cool from Back to near front. But man, I found out too late. It seems from what the Seller didn't tell me. My GC has taken a massive smack in the front end!
I really want to get her on a lift! And see if there's any damage to the Chasis, as it squeaks when turning the wheel & driving fast with fast repetitive squeeks. But one thing he did say was that the front drivers side Caliper needs replacing.
So I have brand new Calipers in boxes ready to fit! The front 2 are both Akebono Calipers. But I was told they don't do the same for the rear, which was surprising! So I have brand new smaller Calipers for the rear in boxes also. All ready to fit if I find a good tutorial online!
As a result of finding the broken & moving front bumper & headlight on the passenger side, I replaced the front Header Panel which was snapped off around the headlight mount. With a 2004 version & so I have now upgraded the 2000 front end, with a 2004 Grill & bumper which is a nice upgrade! Only thing is, the 2004 bumper & Front Grill are different colours so they'll need to be sprayed to match the silver body work!
I want to do the normal Off Road mods but my income doesn't allow for this to happen very quickly! May take some years but hope to get there at some point! But, Metal Winch Bumper front & back. Lift kit etc & bigger tyres over a 15 inch steel wheel are some of the upgrades id like to fit on her at some point. But for now she's stock other than a Snorkle that I'm not sure is fitted properly. & my exhaust comes out from underneath the rear drivers side passenger door and has no muffler only pipes & Catalytic Converters which I only found out after an AA visit!
I badly want to travel & do a European Road Trip. Love to see the Northen Lights, camp out & hopefully do so with a couple of furry canine friends! Just get in touch with nature which I have been devoid for far too long!
So that's me. I may have gone on too long but hopefully I haven't for an Introduction!?
So, this brings me to why I'm here my friends. I badly need some advise pls. If this isn't how its done then no worries I'll start again in the right place if you can tell me, & my apologies if this isn't the correct way!
But if it is, then great! I have a few issues I'm facing but my main issue affecting my MOT is this:
1. My High Beams will not come on! No matter what I've tried!
What I've tried:
1. A few different bulbs but with no results!
2. I have done my best to study the interior & engine bay Fuse Boxes Diagrams, & have ended up replacing every single Fuse I had. Both the Mini Fuses & The Tall Profile Cartridge Fuses JCase versions to be exact! All brand new!
3. This one I may have made a mistake. somany advice would mean a lot? I have replaced every Relay in my interior Fuse Box only. Reason being as they hold the Relays for High & Low Beams. But I've not relpaced them with new ones! I cannot find new Relays for my WJ anywhere! Europe or US! None at all!
So, I've ended up buying internal Preowned Fuse Boxes (which come with stock Relays & Fuses) online with them stating everything's been tested & working! So I took my Relays out & replaced them with the Relays from the working Fuse Boxes!
But! I had a little mishap & am not sure if I put back the Relays in their correct position.
My reference was from an online Diagram of my interior and engine bay fuse boxes and they seem on point!
Just to explain something. From the interior Fuses Boxes. 2 of the Relays there have this serial. 007001 or 007003! 007003 have Gold pins & 007001 have Silver Pins. (I have attached an image of both Relays from the interior fuse box) I replaced the 5 Relays around where the High & Low Beams Relays are with the Gold 007003 Relays? So there are now 5 007003 Relays in my interior Fuse Box in these positikns. R6 R7 R8 R9 then R10 & R12. The rest of the interior Fuse box is in its correct placing I believe other than I am not 100% about Relays R2 & R4,but we can discuss that after.
I'm not sure if I am allowed to link the Fuse Box Diagrams I've been using but if I'm allowed let me know & I'll link the website.
So for this moment, that's my problem! My High Beams Refuse to come no matter what I have tried. So now I'm worrying is it the Cabling internal wiring that could be the offender?
I have already had conversations about this on the phone to Garages! Convos of getting someone to replace all the looms in my battery area! As I was told by an AA roadside mechanic. That he had a WJ like mine & said that the cabling in the battery area does not look stock?
__
So! My friends. And just to end, (Not to discuss them) but in case these points give you any ideas as to why my High Beams aren't working. Here's what else that I have been facing electrically since I purchased my GC.
1. Intermittent Battery Drain. Battery Dies overnight. Got brand new Battery which drains a bit slower but still drains. One moment the drain shows on an Amp metre. The next moment it doesn't? A mechanic showed me this happening!
2. My instrument Cluster goes dead from start up or suddenly whilst driving. Everything goes to 0 and I can't see my speed, or what petrol I have, nothing! Speedometer only kicks in after I start driving. It pings and starts showing speed sometimes minutes later after starting engine up. But usually 20-30 seconds after starting up. The cluster pings & then the Speedometer kicks in.
3. My car cuts out whilst driving sometimes. The engine suddenly goes dead. I have to turn off my car, put it back into neutral, start car back up, put into drive & revup all whilst it's still moving slowing down! I'm really worried of this happening in the motorway. I can't work the brakes cos the engine & electrics are off! Luckily this has always happened whilst the car was moving slowly, byt once at around 30mph!
4. AC / Cruise Control Not Working.
Again these last points are just for your info not to sort out now!
And lastly. Just to reiterate. My car has had some kind of crash in the front end on the left psssenger side! I don't know how big it was he never told me about it at all!
Anyways, man I hope I haven't gone on to long. I've been sitting with these problems for over a year. So wasn't so easy to concise.
I hope I've explained my situation & introduced myself appropriately. If you are able to help me concerning my High Beams alone, I would be incredibly grateful! It would allow me to take my MOT so I can be Road legal. Until then I am stuck at home unable to move so you'd be helpjng ,e more than you know!
Thank you all for your time!
prime8zero
Ps. Here's some images. My exterior is different now, & I've yet to take images of the exterior which I'll do and add them to this thread. Thanks!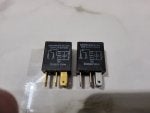 This first image is of the 007001 & 007003 Relays. Thanks folks!